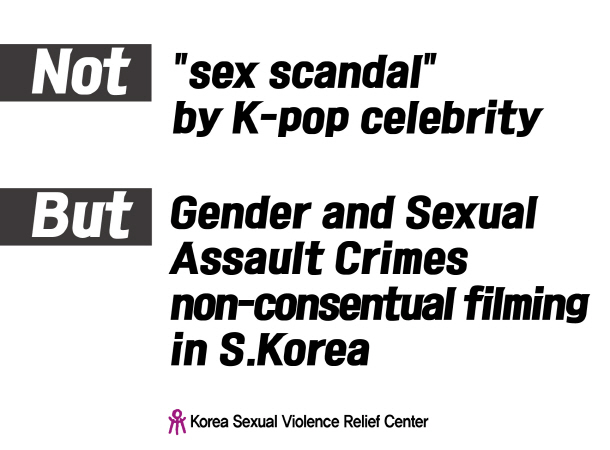 최근 사건에 대해 외국 언론에서 '케이팝' 'K-스타' '성추문'으로 보도하고 있습니다. 단순 케이팝 성추문이 아니라 한국사회에서 여성폭력이 '정상화'되어온 문제입니다. 언론과 독자들에게 다음 문제를 이해할 것을 권합니다 : 불법촬영문제, 여성에 대한 폭력, 고위 권력층의 범죄은폐와 처벌회피구조
Recent scandals emerging from the S.Korean entertainment industry have put on display the gender issues local women and feminist groups have been demanding justice over during the last few years. More than a "Kpop industry" issue or an individual celebrity "sex scandal", this is a problem about the normalization of gendered violence plaguing all levels of Korean society. We urge international media and readers to learn about spy camera porn, sexual assault, and how high-ranking police and wealthy investors have colluded to cover up crimes and fail to enforce laws.
사안의 복잡성을 이해하고자 하는 세계 언론과 독자를 위해 영어뉴스 링크를 추천하고 요약본을 첨부합니다. 앞으로 여성에 대한 폭력 범죄에 대한 정의를 요구하는 활동가/시민들의 관점을 담은 기사와 글이 더 많이 생산되기를 바랍니다!
We recommend the following English news sources for international readers interested in understanding the complexity of the recent events and urge media sources to include the perspectives of activists engaged in demanding justice for gender and sexual assault crimes in S. Korea.
Sex, money and drugs: The controversy that ended Seungri's career explained
KPOP Herald / 19.15.03 http://kpopherald.koreaherald.com/view.php?ud=201903141605129396677_2
A good introductory article that summaries the recent scandals in order of events, and shows how various celebrities, investors, and high-ranking police officers are facing accusations for colluding in corruption and other sex crimes.
K-Pop Singer Jung Joon-young Admits to Illicitly Filming Women
The New York Times / 19.13.03
https://www.nytimes.com/2019/03/13/world/asia/jung-joon-young-sex-videos.html?rref=collection%2Ftimestopic%2FSouth%20Korea
Brief but good explanation of how the Seungri and Jung Joon-young cases are emerging after massive women's protests against gendered violence and spy camera(molka) over the last year. It also highlights how although illegal, the police has failed to uphold the law against the filming and distribution of explicit images/video.
How the Seungri and Jung Joon-young K-pop sex scandal exposes South Korea's culture of toxic masculinity
south China Morning Post / 19.18.03
https://www.scmp.com/week-asia/society/article/3002214/how-seungri-and-jung-joon-young-k-pop-sex-scandal-exposes-south
This is a think piece that highlights the role that "toxic masculinity" has played in the recent scandals, by contextualizing the events with women's and feminist concerns around spycamera porn, sexual assault (MeToo), and the industry's forgivenenss of men who engage in these practices.
K-pop stars protected by police chief from legal consequences?
The Korea Times / 19.14.03
http://www.koreatimes.co.kr/www/art/2019/03/682_265335.html
An overall summary of the accusations currently faced by ex-Big Bang member Seugri, including sex-for-business favors and celebrity Jung Joon-young for non-consentual filming and dissemination of private sex videos, and the possible protection they and other celebrities received from high ranking police officers.
Police officer booked for alleged role in snowballing scandal involving K-pop stars
Korea Herald / 19.17.03 http://www.koreaherald.com/view.php?ud=20190317000079
The article show the connection between Burning Sun nightclub, which reeived accusation of drug use and sexual violence, a high-profile celebrity, Seungri, who is also under investigation for procuring sex services for potential investors, and the possible collusion of police officers who ignored these and other crimes for pay.
Corrupt ties between police, K-pop star's nightclub revealed
The Korea Times / 19.18.03
http://www.koreatimes.co.kr/www/nation/2019/03/251_265503.html
This article discusses the investigation of a police senior superintendent currently working at the Korean National Police Agency, and his possible involvement in the Burning Sun case. He is accussed of accepting bribes to cover up crimes made by the nightlub (underage drinking) and other Kpop celebrities (DUI).
written by Mayra Tenorio, volunteer@KSVRC